Periodontal Therapy - Lincoln, NE
Renew Oral Health After Gum Disease Damage
Do you notice blood in your spit after brushing and flossing? Does your gum tissue seem overly red in color, tender to the touch, or swollen? These signs shouldn't be ignored, as they may indicate the presence of a serious infection known as periodontal (gum) disease. Left untreated, this condition can eventually threaten the continued livelihood of healthy jawbone and teeth, which is why Dr. Olberding strongly recommends early treatment with periodontal therapy in Lincoln, NE.
Our dental office offers several effective therapies for ridding the mouth of harmful bacteria and getting your smile back on the right track. Contact us today here in Lincoln, NE to schedule a first visit.
Scaling & Root Planing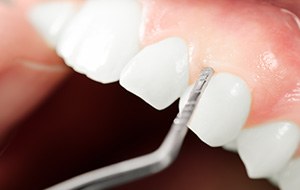 This deep-cleaning technique is the best starting point for eradicating the presence of infectious bacteria. There are two distinct sections to the treatment, and they will typically be spread out over a few different appointments. First, we will thoroughly eliminate plaque and tartar from beneath the gum tissue with high-tech instruments. Then, the tooth root surfaces (which are notorious for developing accumulations of bacteria over time) are carefully smoothed as well to prevent further flare-ups.