Teeth Whitening - Lincoln, NE
Professional Solutions for Brighter Smiles
In cosmetic dentistry, one of the most popular procedures today is teeth whitening. There are many reasons one would need or want to whiten their smile. Without a doubt, whiter teeth make a person look younger. In fact, there are few other procedures that can take years off your appearance the way that teeth whitening in Lincoln, NE can without involving expensive surgeries. What's more, feeling great about the way you look boosts internal self-confidence, which also improves your quality of life. Whether you want to achieve an overall whiter smile for your everyday life or for an upcoming event, we can help.
Teeth Whitening Treatment Options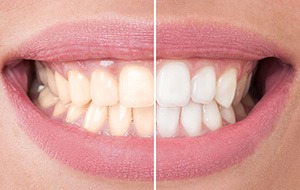 At your whitening appointment, one of our team members will evaluate your teeth and explain what kind of results you can expect. Next, we'll take molds of your gum line to create your custom-fitted mouthguards. Once your trays are ready for pick-up, we'll instruct you on how to apply the whitening solution so you can whiten at home.
At Olberding Dental, we want you to experience long-lasting results. Take-home whitening is more effective than in-office treatments, and they're easy to use. The custom mouthguard is yours to keep and can be used in the future for touching up your whiter smile.
Schedule Your Consultation Today
Before you know it, you'll have the beautiful smile you've always wanted. If you are searching for a great dentist to assist you in your whitening goals, call us to schedule your consultation. Whether you're looking for general, cosmetic, or restorative care, you can count on us to provide service that exceeds your expectations. We will help you get to the root of your oral health problems so you can enjoy better comfort and functionality.