Dental Implants – Lincoln, NE
Complete Your Smile with a Lifelike Solution
Life with one or more missing teeth can be difficult. There's the insecurity of smiling in front of others, the inability to chew nutritious foods, and the other oral health issues that accompany tooth loss. Fortunately, dental implants can prevent all of these issues and complete your smile with a lifetime solution. Dr. Louis Olberding would love to help patients explore their options for rebuilding their smiles with dental implants in Lincoln, NE. Contact Olberding Dental today to schedule an initial consultation!
Why Choose Olberding Dental for Dental Implants?
Fellow of the International Congress of Oral Implantologists
Bone Grafting Offered to Improve Chances of Successful Treatment
Flexible Dental Payment Options
What Are Dental Implants?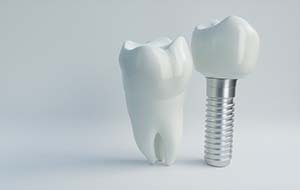 A dental implant is a small titanium post that is surgically embedded in your jawbone. There, it becomes the "root" of your new tooth. As you heal from this surgery, the biocompatible implant post and surrounding bone tissue fuse together via the natural process of osseointegration. When this process is complete, Dr. Olberding can install a metal fixture called an abutment on top of your implant. This connector piece allows him to secure a customized crown, bridge, or denture into place, completing the visual portion of your smile. Once dental implant treatment is finished, you'll have a fully functional smile that is virtually indistinguishable from the one you used to have!
The Dental Implant Process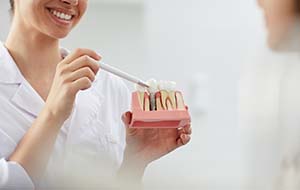 Because dental implants are designed to mimic the original structure of tooth roots, they must be surgically inserted into the jawbone. This will jumpstart a process known as osseointegration, during which the patient's natural oral tissue will gradually form around the biocompatible additions and create a stable, enduring foundation for replacement teeth. Patients can expect this process to take a few months. Once the mouth is fully healed, you will return to the office so that Dr. Olberding can start planning custom-made dental crowns, bridges, or dentures to go on top of your implants.
Benefits of Dental Implants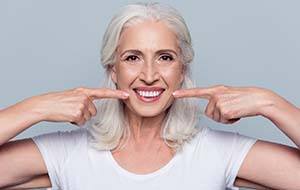 Everyone knows of the more traditional ways to replace missing teeth, such as dentures and dental bridges. However, dental implants are quickly becoming the treatment of choice for many patients – and there's a good reason for that. They're considered the gold standard of tooth replacement because they offer numerous benefits that you simply can't get with other restorative options. To learn more about the advantages of getting dental implants in Lincoln, continue reading or give us a call and schedule a consultation !
Day-to-Day Benefits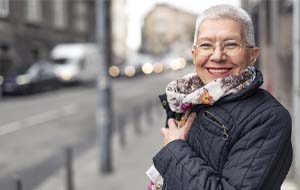 By recreating every single part of a missing tooth, dental implants offer numerous benefits that traditional options (i.e., dentures and dental bridges) cannot supply. Some of these benefits include:
Versatility – Do you have one or more missing teeth? Dental implants can replace anything from a single tooth to an entire mouthful.
Easier to Speak – Unlike traditional methods of tooth replacement, dental implants will not slip and slide around in your mouth. They're secure enough to allow you to speak easily, confidently, and more clearly.
Easy Maintenance – One of the biggest advantages of dental implants is that they don't require special care beyond what's needed to keep your natural teeth in good condition. All you need to do is brush, floss, and rinse every day as usual.
Boost of Confidence – Since dental implants are integrated into the jawbone, they won't move once firmly in place. That means you can eat, smile, and speak with complete confidence once again!
Health Benefits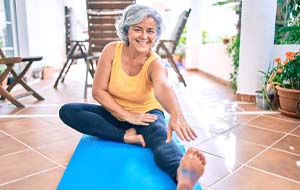 Dental implants can improve more than just your daily quality of life. They offer some incredible health benefits as well, including:
Jawbone Preservation – Because dental implants are surgically inserted into the jawbone, they provide it with the support and stimulation it needs. Not only does it help prevent the bone loss that's common after tooth loss, but it maintains the face's overall shape for years to come.
Protection for Natural Teeth – Dental drift (shifting of the teeth) is also common after tooth loss. With dental implants, every single tooth can stay exactly where it belongs instead of moving.
Improved Overall Health – Studies show there's a correlation between tooth loss and an increased risk of several diseases. Since dental implants are so similar to natural teeth, they are believed to help lower such risks.
Long-Term Benefits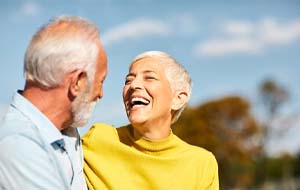 Although you'll certainly benefit from dental implants right now, here's what you can expect in the long run:
High Success Rate – Dental implants have an impressive success rate of about 95%, which still holds true even 20 years after they're placed.
Youthful Appearance – Since implants stimulate the jawbone, they help prevent its deterioration and the sunken, aged appearance that often accompanies tooth loss.
Long-Lasting Results – With proper care and maintenance, dental implants can last several decades – sometimes even a lifetime!
Who Dental Implants Can Help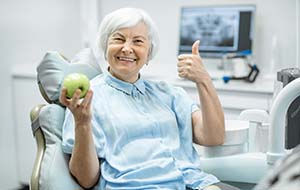 One major advantage of dental implants is that they can be used to replace a single missing tooth, several teeth consecutively, or even an entire arch of missing teeth. Dr. Olberding will be able to determine which of the following solutions is best for your specific circumstances:
Missing One Tooth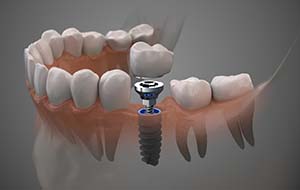 The loss of natural teeth, even a single one, can negatively impact a person's oral health and overall quality of life. At Olberding Dental, our team strongly recommends using state-of-the-art dental implants to recreate individual teeth seamlessly. We will use a single implant post topped with an all-porcelain dental crown that fits right in alongside natural teeth – no damaging alterations to your remaining tooth structure required.
Missing Multiple Teeth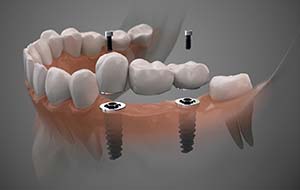 In addition to single teeth, dental implants can also be utilized to recreate a more significant part of your smile. There are multiple reconstructive options available, depending on the patient's personal preferences, health, and budget. For instance, we may recommend an implant-supported dental bridge if the lost teeth are located in a row. Alternatively, a partial denture secured onto implants can work wonders in replenishing several stable, lifelike teeth all at once.
Missing All Teeth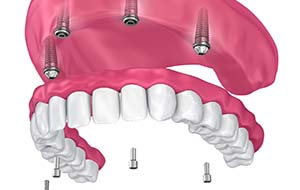 Traditional dentures have been around for hundreds of years, but their pitfalls are hard to ignore. If you are ready for an upgrade that's more reliable, more functional, and more attractive, consider an implant denture. This type of denture will be anchored to a small number of strategically placed implants within the jawbone. Dr. Olberding can also make the appliance fixed in place (essentially permanent) or removable.
Learn More About Implant Dentures
Missing All Teeth with Low Jawbone Density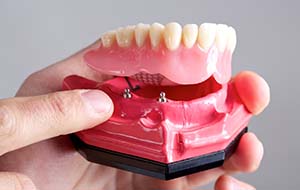 If you are struggling with severe tooth loss but don't wish to or are unable to undergo bone grafting to strengthen your jawbone, All-on-4 may be the right choice for successful, comprehensive reconstruction. Like the name implies, our team will use just four implants throughout the upper or lower jaw to sturdily anchor a full denture in place. These implants are inserted at specific angles to take advantage of the jawbone's available density, often eliminating the need for a bone graft. Better yet, the prosthetic can be placed immediately after the implants, which means patients will be able to leave our office that same day with a reinvigorated smile.
Understanding the Cost of Dental Implants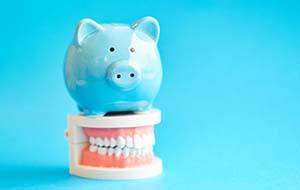 While there is no denying the fact that dental implants are the most reliable form of tooth replacement available, you still want to know how much the procedure costs so you can plan accordingly. When you visit our dental office in Lincoln, we'll carefully perform an oral examination to determine your eligibility for a dental implant and to develop a restoration plan that perfectly fits your needs. Then, we'll provide you with an accurate estimate. Read on to find out what factors into the cost of dental implant placement and also find out why it's a sound investment into the future of your oral health!
Types of Dental Implants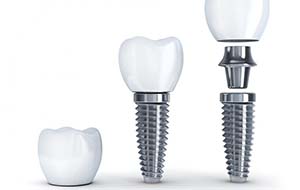 The type of dental implant you receive factors significantly into the overall cost. For example, to replace a single tooth, you can generally expect the procedure to be less costly than it would be in the case of a full mouth reconstruction, which typically requires the placement of four to six implants per arch that support a full set of dentures. When you visit us, Dr. Olberding will consider the number of teeth you have missing, the condition of your oral health, and the amount of healthy bone mass you have remaining to determine what type of dental implant and the number that is best suited to meet your needs as well as the overall cost of dental implants in Lincoln, NE.
What Are the Stages of Dental Implant Treatment?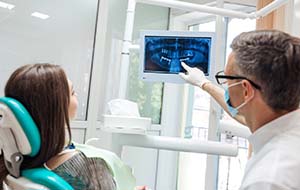 We take a careful approach to every step of the dental implant process, which contributes to maintaining its 95% success rate. Because the procedure is highly customized, the cost of each stage, which includes the surgical insertion of the implant and the abutment and final restoration placement, is unique to your specific needs.
As previously mentioned, to ensure you have a successful treatment, we'll assess your oral health and jawbone mass. Therefore, if there are any issues like gum disease or jawbone degeneration that need to be addressed, it can be done prior to receiving your implants, which means you can count on a longer-lasting restoration.
Are Dental Implants Worth the Investment?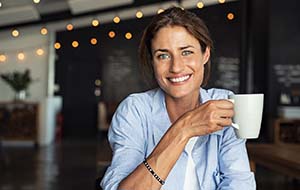 When there is prolonged tooth loss, any remaining teeth can begin to shift due to the diminished tension. This can result in poor occlusion (bite) and a greater chance of gum infection. By having dental implants placed, such problems can be avoided. Furthermore, by replacing the entire tooth structure, each dental implant is self-sufficient and doesn't require any damage or alteration to your surrounding teeth.
It's also reassuring to know that with proper care, a dental implant can last 30 years or more. That means you could very well have your beautiful smile for the rest of your life. And better yet, you'll enjoy having up to 75% of your original chewing capacity restored.
Does My Dental Insurance Cover Dental Implants?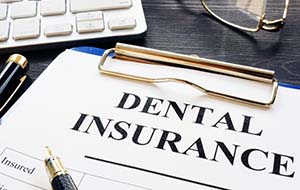 Typically, dental insurance doesn't cover the placement of dental implants. However, depending on your insurer, there may be some coverage available for any restorative care related to the procedure. For example, if you need periodontal (gum) therapy prior to having dental implants placed, your dental insurance may partially contribute to the cost.
We also accept CareCredit, which is a low-to-no interest way to receive the care you need with convenient repayment options. Depending on the cost of your procedure, there are payment plans from six-to-24 months available. By taking advantage of CareCredit financing, you can receive the valuable treatment you need without deflating your wallet.
To learn more about dental implants in Lincoln, contact us to schedule a visit today!
Advanced Dental Implant Procedures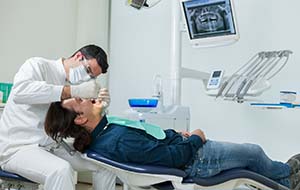 Dental implant tooth replacement is likely the most popular option, as it replaces an entire tooth from the roots up. That means patients' prosthetic teeth are not attached to surrounding teeth or reliant on dental adhesives or suction for attachment. It also means that replaced teeth look and feel more like regular teeth. Unfortunately, many patients who could benefit from dental implants don't have adequate bone structure to support them. That's why Olberding Dental offers bone grafting in Lincoln, NE and sinus augmentation procedures, allowing more patients than ever to receive revitalizing dental implant tooth replacement.
Why Patients Might Need Bone Grafts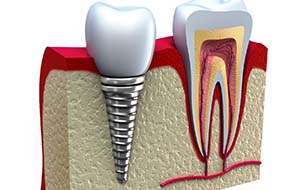 One of the most detrimental side effects of tooth loss is also one of the most difficult to prevent: lost bone density. The human body has countless energy and nutrient-saving mechanisms, and one of these is bone resorption. When bones are not used regularly, the lack of stimulus causes the body to begin rerouting nutrients typically utilized in retaining bone structure to other parts of the body. Following tooth loss, the jawbone does not receive stimulation leading to bone resorption.
Traditional tooth replacement options like crown and bridge and removable full and partial dentures do not prevent bone resorption, as the root of the tooth is not replaced. Dental implants replace the entire tooth from the roots up, preventing bone resorption. However, for patients who have waited to receive implants, the lost bone density may prevent them from receiving an implant-supported dental prosthetic successfully. Bone grafting allows patients with diminished bone density after tooth loss to receive dental implant tooth replacement.
Types of Bone Grafting Procedures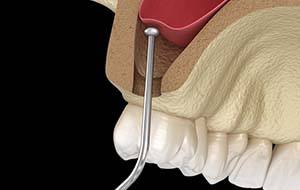 Some of the most common types of dental bone grafts include:
Sinus Lift – The hollow area above the upper jaw is known as the maxillary sinus. A sinus lift procedure is the most common type of bone graft, and it requires attaching bone to the upper jaw, filling in part of the sinus.
Ridge Expansion – Bone tissue deteriorates first in width and then in height. Ridge expansion restores the lost width by inserting bone graft material into a ridge cut into the top of the jaw.
Distraction Osteogenesis – This procedure is the opposite of ridge expansion, and it is used to increase the height of bone. Metal posts are placed inside the bone and gradually shifted further apart, allowing new bone to grow in. Distraction refers to the process of slowly separating the bone, and osteogenesis is the growth of new bone.
Nerve Repositioning – The inferior alveolar nerve is encased in the lower jaw and gives sensation to the mouth and chin. This nerve often needs to be redirected after significant bone density loss. The good news is that dental implants can then be placed in the hole vacated by the nerve. This surgery can cause nerve damage and is typically recommended as a last resort.
Dental Implant FAQs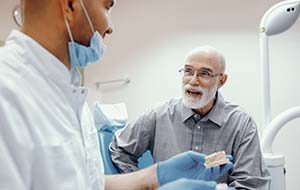 Replacing missing teeth is a big decision, so it is only natural that you might have some questions. That is why we have compiled some of the most common questions about dental implants and already answered them for you. Take some time to read through our list of dental implant FAQs. Then, if you still have doubts afterwards, do not hesitate to give our team a call!
How Long Do Dental Implants Last?
Dental implants are a long-term solution to filling gaps in your teeth. If you practice excellent oral hygiene and see a dentist every six months for a routine checkup, you can count on your implants to last for two or three decades – or even the rest of your life!
Do Dental Implants Ever Fail?
While rare, a dental implant can sometimes fail to properly or completely fuse to the bone, a process called "osseointegration". This type of dental implantation failure can be caused by a myriad of factors, such as tobacco use, diabetes, or low bone density in the jaw.
In addition, gum disease and other infections in the soft tissue or bone in the mouth can reduce the chances that an implant will heal properly. For this reason, it is critical that you practice excellent oral hygiene both before and after implantation surgery.
Am I a Good Candidate for Dental Implants?
With a success rate of approximately 98 percent, dental implants are an excellent tooth replacement solution for virtually any patient. Generally speaking, candidates that elect to replace missing teeth with dental implants should have:
Excellent oral hygiene habits
Healthy gums
A thick and strong jawbone
Even if you have insufficient bone density in your jaw, you may still be able to get dental implants. However, Dr. Olberding may first recommend a bone graft to fortify your jaw and prepare for successful dental implantation.
Does My Insurance Cover Dental Implants?
Even though they provide a range of positive health benefits, many insurance plans don't elect to cover dental implants because they consider them a primarily cosmetic treatment. In some cases, however, your general health insurance may be used to cover some of the surgical costs.
Everyone's insurance benefits vary, so we encourage you to review your personal dental insurance and available medical coverage before choosing to move forward with dental implant treatment.
How Much Do Dental Implants Cost?
The cost of dental implants will depend on the unique characteristics of your smile and a number of factors, including the number of implants needed, where the implants will be placed in your mouth, whether you will need to undergo a bone grafting procedure before implantation surgery, and more.
To determine the true cost of treatment, please schedule an initial consultation with Dr. Olberding so he can review and discuss your health history and specific dental circumstances with you.