Dental Implants - Lincoln, NE
Replace Missing Teeth
In today's world, dental implants are the clear frontrunner for stable, lifelike, and long-lasting tooth replacement. This is because they uniquely rebuild every component of your natural smile, starting with the root that exists below the gum line and provides essential stimulation to the bone. Here in Lincoln, Dr. Olberding would love to help patients explore the various benefits of this transformative services and essentially turn back the clock on what they've lost. Contact Olberding Dental today to schedule an initial consultation, or if you have any questions about dental implants in Lincoln, NE.
Dental Implant Placement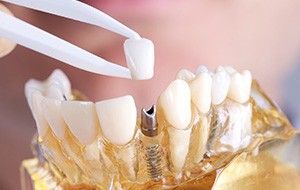 Because implants are designed to mimic the original structure of tooth roots, they must be surgically inserted into the jawbone. This will jumpstart a process known as osseointegration, during which the patient's natural oral tissue will gradually form around the biocompatible additions and create a stable, enduring foundation for replacement teeth. Patients can expect this process to take a few months. Once the mouth is fully healed, you will return to the office so that Dr. Olberding can start planning custom-made restorations.
Bone Grafting for Dental Implants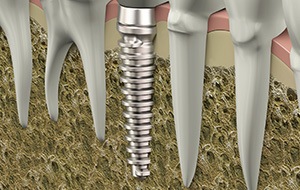 One of the biggest detriments of tooth loss is the deterioration of healthy bone in the jaw. Patients with long-term gaps will experience this dangerous process at a gradual pace, only to discover once they're ready to replace their teeth with implants that they don't have enough healthy structure left to support them. Thankfully, our practice offers bone grafting as a solution. By building up healthy tissue in a specific area, we can make this transformative procedure not only possible, but successful as well.
Learn More About Bone Grafting
Single Tooth Dental Implants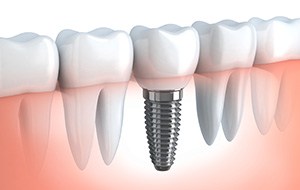 The loss of natural teeth, even a single one, can negatively impact a person's oral health and overall quality of life. At Olberding Dental, our team strongly recommends using state-of-the-art implants to recreate individual teeth seamlessly. We will use an all-porcelain dental crown or bridge to build confident, healthy dental structure that fits right in alongside natural teeth – no damaging alterations required.
Learn More About Single Tooth Implants
Dental Implants for Multiple Teeth
In addition to single teeth, dental implants can also be utilized to recreate a more significant part of your smile. There are multiple reconstructive options available, depending on the patient's personal preferences, health, and budget. For instance, we may recommend a custom-made bridge if the lost teeth are located in a row. Alternatively, a partial or full implant-retained denture can work wonders in replenishing stable, lifelike teeth all at once.
Learn More About Implants for Multiple Teeth
Dental Implant Retained Dentures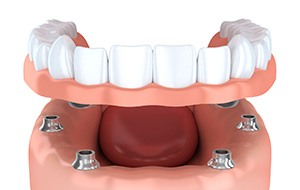 Traditional dentures have been around for hundreds of years, but their pitfalls are hard to ignore. If you are ready for an upgrade that's more reliable, more functional, and more attractive, consider implant-retained prosthetics. This type of denture comes in a partial or full form, depending on the extent of your tooth loss, and it will be anchored to a small number of strategic implants within the jawbone. Dr. Olberding can also make the appliance fixed in place (essentially permanent) or removable.
Learn More About Implant Retained Dentures
All-on-4 Dental Implants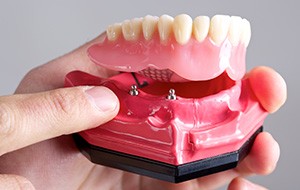 If you are struggling with severe tooth loss, All-on-4 may be the right choice for successful, comprehensive reconstruction. Like the name implies, our team will use just four implants throughout the upper or lower jaw to sturdily anchor a full denture in place. Better yet, the prosthetic can be placed immediately after the implants, which means patients will be able to leave our office that same day with a reinvigorated smile.
Cost of Dental Implants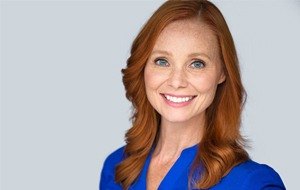 While there is no denying the fact that dental implants are the most reliable form of tooth replacement available, you still want to know how much the procedure costs so you can plan accordingly. When you visit our office in Lincoln, we'll carefully perform an oral examination to determine your eligibility for a dental implant and to develop a restoration plan that perfectly fits your needs. Then, we'll provide you with an accurate estimate. Read on to find out what factors into the cost of dental implant placement and also find out why it's a sound investment into the future of your oral health!
Learn More About the Cost of Dental Implants
Dental Implant Frequently Asked Questions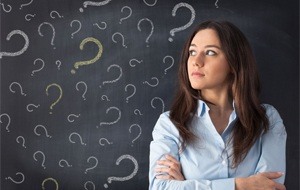 Replacing missing teeth is a big decision, so it is only natural that you might have some questions. That is why we have compiled some of the most common questions about dental implants and already answered them for you. Take some time to read through our dental implant FAQs page. Then, if you still have doubts afterwards, do not hesitate to give our team a call!