Providing Precise Laser Dentistry for Lincoln, NE
Lasers aren't just for Superman to shoot from his eyes anymore. The highly focused light beams are used in everyday technology like Blu-ray players, barcode scanners, and laser tag. The uses of laser technology seem virtually unlimited. In medicine, lasers have been used for tattoo, scar, and hair removal, as well as eyesight correction and delicate operations. The benefits of laser usage in the dental field are numerous and include replacing drilling for many procedures, whitening teeth, curing resin fillings, and repairing gum tissue.
To ensure that he is using the most up-to-date techniques, Dr. Louis Olberding attends annual continuing education courses for laser dentistry. We treat patients using lasers on an almost daily basis. Lasers allow our team great precision when removing decay and infection from teeth and gums. Our cosmetic dentistry treatments are greatly enhanced by our laser technology, which allows us to perfectly shape gums and prepare teeth for cosmetic treatments.
Advantages of Laser Dentistry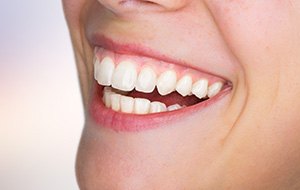 Dr. Olberding uses laser dentistry to provide precise, effective oral health care while avoiding excessive tooth loss or soft tissue damage. Lasers simplify many procedures that would require a scalpel, drill, or other invasive treatment. Advantages include:
Improved early treatment
Greater patient comfort (virtually painless!)
Extremely precise
Kills bacteria
Promotes a faster healing time
Little or no anesthetic is required
Very safe for adults and children
Excellent, predictable results
Laser Periodontal Therapy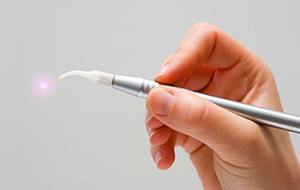 A soft-tissue laser is used to treat periodontal (gum) disease, including gingivitis and periodontitis caused by the bacterial colonization under the gum line. Early stages of gum disease are often referred to as gingivitis, which is a swelling or inflammation of the gums. Thorough removal of bacteria and treatment of affected tissue can prevent the onset of periodontitis, which is a more severe form of periodontal disease that can lead to bone density deterioration and tooth loss. Laser treatment removes bacteria virtually painlessly and helps the sensitive gum tissue to heal quickly, avoiding further infection.