All-on-4 Dental Implants - Lincoln, NE
Quick, Conservative Implant Supported Denture Solutions
Edentulous (toothless) patients often find themselves stuck in a vicious cycle. They want to replace missing teeth with dental implants that will stimulate bone tissue growth and health, but their tooth loss has caused too much bone density loss for safe implant placement. Many patients choose a removable denture instead, but because the root of the tooth is not replaced, bone density continues to diminish. There's good news for patients who have been unable to receive tooth implants due to lack of bone density: All-on-4 dental implants in Lincoln, NE. This simple dental implant procedure utilizes the parts of the jawbone with naturally higher density to support a full denture.
The All-On-4 Dental Implant Denture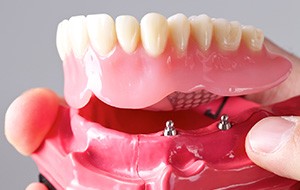 As the name implies, All-on-4 dental implants support a full denture on just 4 dental implants. Some patients may require a few additional implant posts for best results, but in most cases, just 4 strategically placed implants make it possible for patients to have the security and confidence that come along with implant-retained dental prosthetics. The process is completed similarly to the traditional dental implant process with some important differences.
All 4 posts are anchored to the front portion of the jawbone where bone density is highest. One set of two implants is placed vertically the way traditional implants are anchored, and a second set is angled into the front of the jawbone from the back of the mouth. These two sets of implant posts provide adequate support to the front and back of the dental prosthetic without requiring bone grafts or other procedures to support the structure.
The Benefits of All-On-4 Dental Implants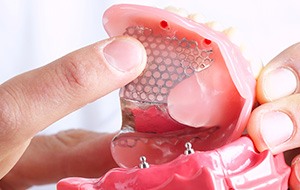 All-on-4 implants make it possible for more patients every day to receive dental implants. Some of the many benefits of All-on-4 dental implants include:
Quick – Often referred to as teeth in a day, All-on-4 dental implants require significantly less healing time and are often able to support dental prosthetics on the same day they're placed.
Budget-friendly – Because there are fewer implant posts to place and less appointments necessary, All-on-4 implant-retained prosthetics can save patients money, especially those with a removable denture that can be adjusted to connect to their implants.
Effective – The unique placement of the All-on-4 implants is specifically planned to provide optimal support and stability for any patient. This procedure is highly reliable with success rates of 98% after 10 years, according to a 2011 study conducted by doctors from the Malo Clinic Lisbon.
Safe – The minimally invasive process is safe for patients since there are fewer incisions needed. Healing time is significantly reduced as well.
Find Out More About Teeth in a Day
Are you ready for permanent, natural tooth replacement? Call Olberding Dental to schedule your all-on-4 dental implant consultation today. This unique dental implant system allows patients struggling with bone loss to restore smiles with minimal time, money, and discomfort invested. You deserve to find out more about how All-on-4 could restore your naturally beautiful smile.