Advanced Dental Services & Technology - Lincoln, NE
State-of-the-Art Dentistry Solutions
In dentistry, tools and techniques are constantly evolving and becoming better over time. These advancements translate into valuable benefits for patients, including more successful treatment results, efficient appointments, and increased comfort in the dentist's office. At Olberding Dental, our team is passionate about maintaining an up-to-date dental office for this very reason. To learn more about the advanced dental services and technology in our Lincoln, NE dental office, keep reading below. If you would like to schedule a first appointment here in Lincoln, contact us today.
Intraoral Camera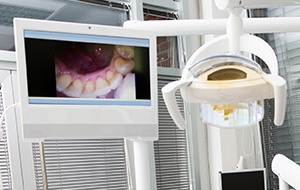 Intraoral cameras are a highly important tool for diagnostic purposes, and they benefit both us and our valued patients. The process is simple – we will insert a camera-tipped wand into the mouth, capturing high-resolution images that are transferred to our computer system and then to a monitor in the operatory. Your smile will be on the big screen and available as a helpful visual aid as Dr. Olberding discusses potential problems, any recommended services, and more.
Digital X-Rays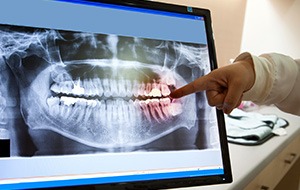 There is a lot of important information about your smile that is well-hidden beneath its surface, which is why X-rays are such a crucial part of diagnosing dental disease and injury. Our dental office utilizes state-of-the-art digital radiography for this process. Unlike traditional X-rays, the digital version doesn't require a darkroom, hazardous chemicals, or hours of tedious waiting – the images are captured and immediately available on our computer system. Our team members can even magnify them, rotate them, and color-code certain areas so that patients better understand what they're seeing.
Another important benefit of digital X-rays is that any radiation is kept much more focused and minute. In fact, the amount patients will be exposed to is up to 80% lower than with traditional radiography, which makes this technology much safer as well.
CT / Cone Beam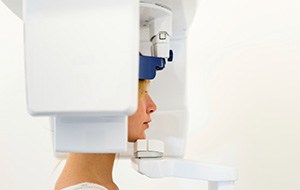 When formulating complex and extensive treatment, Dr. Olberding wants to do everything he can to ensure success. Our revolutionary Galileos 3D Cone Beam will create a precise, three-dimensional model of not only the smile but all of the related oral and facial structures, so every component can be taken into account during the planning process. Our team uses this technology for surgical implant placement, root canal therapy, and even to visualize the throat and airway when diagnosing sleep apnea.
Cavity Detection System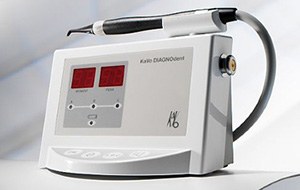 Cavities are one of the most common dental problems that patients of all ages face, and our team strives to not only treat them early but prevent them when possible as well. Instead of simply poking and prodding the mouth when looking for decay, we use an advanced alternative: DIAGNOdent. This technology utilizes a laser diode that creates wavelength – first a baseline that represents healthy teeth, and then a reflection of your unique smile that compares to it. Any areas of weakened enamel will be reflected in the computer printout, even ones that aren't actually noticeable to the naked eye just yet.