Featured Smiles of Lincoln
Read James's Story of Completing All-On-X!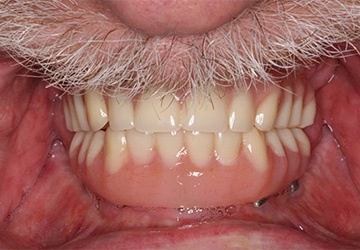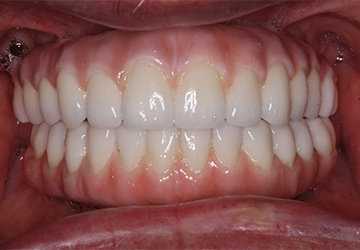 Our office couldn't be more excited to share James's story of undergoing All-on-X treatment. We always make it a priority to follow up with patients and confirm they are happy with their tooth replacement, regardless of the number of teeth that need to be replaced.
"I had Dr. Olberding and staff fit me for a complete new set of upper and lower implants. This process took almost a year to complete and involved over a dozen visits so I am well acquainted with their work. The result was that I now have 'permanent' teeth that look great, are easy to maintain and allow me to eat anything that I formerly did with my natural teeth.
I was one that attempted to cover my mouth when talking so that people could not see my teeth. Now, I smile abundantly! Dr. Olberding and his entire staff are not just the best professional staff I have ever encountered, they are also just extremely nice people. Dr. Olberding explained to me from the outset that even though I paid an established price for the procedure, they would continue the process of fitting the implants until I was 100% satisfied. That included fit, cosmetics, and speech and that is exactly what they did. Today, I have a great looking and highly functional set of implants, whose appearance is very natural.
I would recommend Olberding Dental without reservation regardless of the procedure. I already have recommended them to friends and family and will continue to do so. They are simply the best!"
At Olberding Dental, we focus on doing everything that's right for you and determining the best treatment option that suits your needs. When you're missing most or all of your teeth in a given arch, we often recommend All-on-X dental implants thanks to their longevity, versatility, function and of course, incredibly lifelike appearance! If All-on-X sounds right for you or you'd like to learn more, please call our office and we'll get you set up with a consultation!