Single Tooth Dental Implants - Lincoln, NE
Replace Individual Missing Teeth from the Roots Up
Many patients choose not to replace single missing teeth that aren't visible when they smile or talk, but the invisible damage caused by tooth loss far outweighs the esthetic impact. Even one missing tooth left unfilled can cause gum tissue and bone density deterioration, dental drift leading to misalignment, and further tooth loss. Regardless of how your smile looks, it's essential to replace missing teeth. At Olberding Dental, our dentistry team offers tooth replacement options to fit any budget or lifestyle. Call our dental office to schedule an appointment to find out more about single tooth dental implants in Lincoln, NE.
Tooth Replacement Options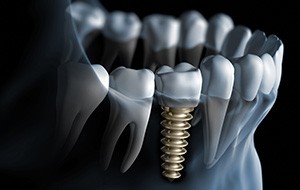 Replacing individual teeth is typically done using one of two methods: crown and bridge or dental implants. Both options are permanent and have little to no impact on chewing, speaking abilities, and oral hygiene routines.
Dental Crowns & Bridges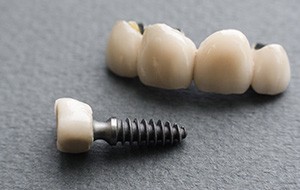 Dental crown and bridge tooth replacement is completed over the course of two visits. During your initial visit, any remaining dental structure from the tooth to be replaced is removed, and the two surrounding teeth are prepared to receive dental crowns that will support the replacement tooth. Impressions are taken of the tooth to be replaced and the prepared surrounding teeth as well as the entire bite. These impressions are sent to our trusted lab where the replacement tooth is crafted. Our lab creates a dental prosthetic that consists of a replacement "bridge" tooth connected to two abutment crowns. During your second visit, the prosthetic is placed as a unit to fill the empty socket and supported by the crowns placed over the prepared teeth on either side.
Dental Implants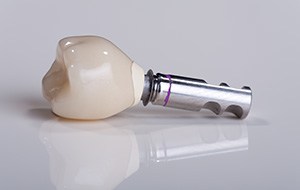 Dental implants are considered the best replacement option for any number of teeth because rather than replacing just the visible portion of teeth, implants restore them from the roots up. The process requires an extensive time commitment, but the results are permanent, natural, and help to retain gum tissue and bone density.
The first step of the dental implant process is the placement of titanium implant posts below the gum line. This surgery is minimally invasive, but patients will need to allow three to six months for the implant site to heal and for the post to fuse with the jawbone the way that the tooth root does naturally. This process is known as osseointegration and is what makes dental implants so effective.
Once the implant fuses with the jawbone and your replacement crown is completed by our lab, you'll return to the dental office for placement. The crown is permanently attached to the implant, and no one but you and your Lincoln dentist will know you ever lost a tooth.
Benefits of Dental Implants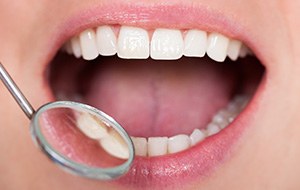 They replace the entire tooth for a natural look and feel.
They help patients retain gum tissue volume and jawbone density.
Patients can avoid facial sagging and wrinkling due to the loss of gum tissue.
Patients can continue their regular oral hygiene routine without worry.
Find Out More from Olberding Dental
While dental implant tooth replacement is generally considered the best option, it isn't right for every smile. Dr. Olberding and his team can help you determine the best option for you. If you're missing one or more teeth, let us help you restore your smile with one of our comfortable, natural-looking tooth replacement options. Call to find out more or to schedule a consultation today.