Dentures - Lincoln, NE
Recreate Lost Teeth for Healthy Smiles
Procedures and therapies in the field of dentistry keep advancing. This is also true when it comes to the creation and placement of dentures in Lincoln, NE. The incredible breakthrough success of dental implants has forever changed the face of denture therapy because patients now have the option to receive implant-supported dentures. An implant-supported denture is secured with small titanium posts inserted into the denture and jawbone. For many, this is the preferred choice of denture, not only for the phenomenal fit but also for their added strength and beauty.
Full and Partial Dentures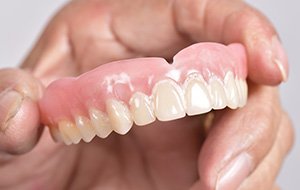 At Olberding Dental, we offer traditional full and partial dentures, but our focus is in implant-supported dentures. Lincoln patients who have upgraded from standard to implant-supported dentures say they're surprised by the difference. Implant-supported dentures feature a precision-milled titanium bar that provides phenomenal strength and fit. It always exceeds our patients' expectations that they can eat whatever they want for the first time in years!
Completing both the surgical and prosthetics programs at the Misch International Implant Institute has given Dr. Olberding a deep knowledge of the superior results that come from the use of dental implants. His skill in this area goes above and beyond that of most other dentists. Implant-supported dentures give patients their freedom back to eat and enjoy whatever they want without feeling constant worry about their dentures slipping. Don't you deserve to feel renewed confidence with eating and speaking?
Contact Us to Learn More
If you would like more information on traditional or implant-supported dentures, our Lincoln team would be happy to help. We encourage open communication with our patients because it's your input that helps us provide great results.
Call us today to schedule your next visit. Whether you're looking for general, cosmetic, or restorative care, you can count on us to provide service that exceeds your expectations. We will help you get to the root of your oral health problems so you can enjoy better comfort and functionality.