Invisalign® For Lincoln Families
We encounter many patients who had orthodontic work done years ago but now, for one reason or another, need help again. Invisalign® is a great option for people in that situation. Properly aligned teeth look fantastic and provide many health benefits. For example, a straight smile can reduce headaches and muscle pain, aid in digestion, and assist in better, more thorough self-cleaning.
The Benefits of Invisalign®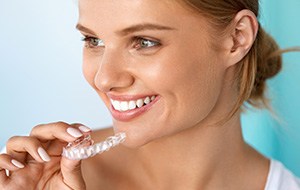 Metal braces just aren't for everyone. Many of our patients love the idea of straighter teeth but don't want the commitment or look of metal brackets and wires in their mouth. For patients with these types of reservations, we offer Invisalign®. This treatment has the following benefits:
Discrete appearance : It uses clear aligners instead of metal brackets.
Aligners are removable : You can take them out to eat, drink and clean.
Safe on the mouth : The aligners do not contain metal brackets that can cut your gums or cheeks.
Shorter treatment time : You can straighten your teeth in less than a year and a half.
Comfortable : The aligners firmly hold teeth without taking up too much extra space in the mouth.
Straightening Teeth with Clear Braces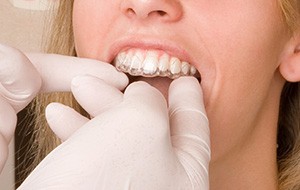 Using a series of clear removable aligners, Invisalign® works to gradually and gently guide your teeth into proper alignment. It works best for patients requiring minor to moderate correction. During treatment, you'll wear each set of aligners for a few weeks at a time. As you go along, you can easily remove them for eating, brushing, or flossing. The alignment trays are smooth and comfortable, but best of all, they're discreet and virtually undetectable to those around you. The aligners work best when worn 23 to 24 hours per day, but they are removable over short periods of time for special events or occasions. Recent advancements with Invisalign® have shortened the complete treatment time and made the results more predictable and precise than before.
At Olberding Dental, we're proud to offer Invisalign® to our Lincoln, NE patients. Dr. Olberding's knowledge and experience make him a natural choice to oversee your Invisalign® treatment. If you've been looking for a way to discreetly straighten your smile and enjoy all the benefits of a healthy alignment – your time has come!
Schedule Your Invisalign® Consultation
Call us today to schedule your next visit. Whether you're looking for general, cosmetic, or restorative care, you can count on us to provide service that exceeds your expectations. We will help you get to the root of your oral health problems so you can enjoy better comfort and functionality.