Restorative Dentistry - Lincoln, NE
Repairing Tooth Decay & Dental Damage for Healthy Smiles
At Olberding Dental, we offer a wide array of preventive and restorative dental treatments to keep you smiling. Preventive treatment is the first step toward outstanding oral health. With effective in-office and at-home dental care, you can avoid many common oral health issues. However, we also know that dental concerns arise even for patients with the most thorough dental care routine.
Restorative dentistry in Lincoln, NE from Olberding Dental is conservative, comprehensive, and cosmetically friendly. Conservative treatment strives to retain as much of your natural tooth structure as possible, comprehensive treatment means that we're here to help no matter what dental issue you're dealing with, and cosmetically friendly treatment means that your smile will look great too.
Traditional Dental Crown & Bridge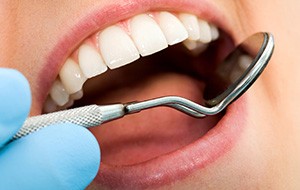 When natural teeth aren't at their best due to decay, injury, cosmetic flaws, or even total loss, a custom-made restoration can bring back the stable and attractive structure patients need. Dr. Olberding offers several options, including crowns for the lifelike recreation of individual teeth and bridges for durable tooth replacement. These restorations may be traditional in nature or retained by dental implants for additional permanence, depending on the patient's preferences. We also offer tooth-colored dental porcelain for a seamlessly attractive result.
Learn More About Crowns & Bridges
Tooth-Colored Fillings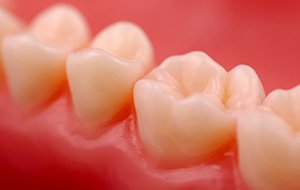 Over 90% of the United States population will experience a cavity at one point or another. At Olberding Dental, patients in need of restorative care for this reason don't have to worry about diminishing their smile's confidence with a dark-colored amalgam filling. Our dental office now primarily uses tooth-colored composite resin for conservative, attractive, and long-lasting improvements. There are a variety of different shades to choose from, and Dr. Olberding will match the material to your natural enamel as precisely as possible.
Learn More About Tooth Colored Fillings
Dentures & Partial Dentures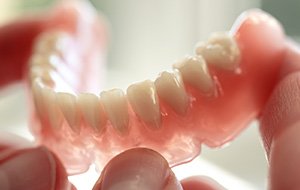 Extensive tooth loss may seem overwhelming, but it can be overcome with a modern, custom-made denture from our Lincoln, NE dental office. Our team will design the ideal full or partial prosthetic that fits comfortably in the mouth and provides all of the everyday function patients need. Both traditional (removable) dentures and implant-retained models are available. Dr. Olberding strongly recommends the latter in most cases because of its improved stability, lifelike structure, and health-related benefits.
Root Canal Therapy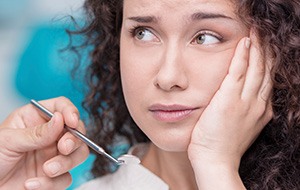 Severe pain and sensitivity in a specific tooth are usually caused by an infection that's penetrated the outer layers and reached the vulnerable pulp underneath. Thankfully, extraction isn't the only option in cases like this. Root canal therapy can remove harmful bacteria from within and restore the tooth's natural health and strength, helping it stay a capable part of your smile for many more years to come.
Learn More About Root Canal Therapy
Full Mouth Rehabilitation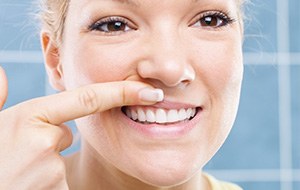 At Olberding Dental, our team believes that it's never too late for a patient to regain their best smile, even following severe injury, infection, and loss. We have a lot of experience with these challenging cases and can devise a personalized full mouth rehabilitation plan that will restore your oral health and happiness to the high levels you deserve.