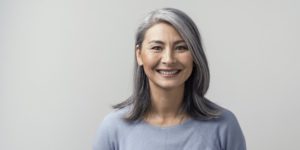 The word is getting out – that dental implants are the most reliable way of replacing any number of missing teeth. People who are new to the procedure are pleasantly surprised to discover that it is 95% effective, but what's the secret to dental implant success? As you continue reading, the answer to that question and much more are revealed!
It Starts with the Assessment
Every step of the procedure is thoroughly planned, and it all starts with the initial visit. The dentist will perform a careful assessment of your gums and any remaining teeth to establish a baseline for your oral health. If decay or signs of gum disease are discovered, the dentist will coordinate a treatment plan to get your oral health up to standard. Therefore, you won't have to worry about anything derailing your recovery and your smile restoration.
Swift Action
Being forward-thinking and taking action are two essential keys to the success of dental implantation. That's because prolonged tooth loss can eventually lead to bone resorption, which results in decreased jawbone density. The sooner you reach out to a dentist and get the implant process started, the better your chances of a positive outcome.
Experienced and Expert Care
Working with an experienced and highly skilled dentist contributes greatly to the success of your dental implant surgery. Furthermore, it provides you with confidence. The top dentists will have received postgraduate training to stay abreast of the rapidly changing techniques and technology associated with the dental implant process.
High Quality Materials
When it comes to the materials that are utilized, there is no cutting corners. You can count on the most advanced fabrication methods being used to craft your implants, which allows for faster healing and more longevity.
Excellent Dental Care
Your dentist will take the time to explain how to best care for your teeth and gums after you've undergone dental implantation. While you'll be able to maintain your normal toothbrushing habits, the dentist will introduce a new type of floss that is made specifically for dental implants. Therefore, you can effectively practice dental hygiene to maintain excellent oral health.
Maintaining Regular Dental Visits
Patients who visit the dentist consistently are more likely to experience superb oral health and longer-lasting dental implants in Lincoln. By committing to visiting semi-annually, you'll be able to stay ahead of any potential problems and provide yourself with greater peace-of-mind.
When you put all the pieces together, you're left with a beautiful and highly functional smile that could last 30 years or longer. Thus, as time goes by, you'll be able to get more life out of your years!
About the Authors
Dr. Louis Olberding earned his dental degree from the University of Nebraska Medical Center College of Dentistry. For nearly 20 years, he has provided his community with highly skilled and compassionate care. Along the way, Dr. Olberding has received advance postgraduate training from the Misch International Implant Institute and Spear Education. He was also awarded Fellow of the International College of Oral Implantologists in 2003. Dr. Olberding replaces missing teeth and creates beautiful smiles with dental implants at Olberding Dental, and he can be reached for more information or to schedule a visit through his website.