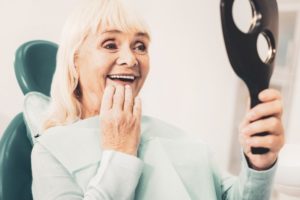 Millions of people rely on traditional dentures to replace their missing teeth. While it's certainly a formidable method of restoring a measure of functionality and smile aesthetics, it still has its limitations. An alternative to traditional dentures is dental implant insertion, but is the procedure worthwhile? As you continue reading, a dentist in Lincoln explains the difference between the two types of tooth replacement.
The Potential Issues with Traditional Dentures
Above-gum dentures rely on dental adhesive and the natural suction in your mouth to secure them. It's not uncommon for the restorations to become loose over time. Here are some of the contributing factors:
Denture Wear – A typical set of dentures can last 5-10 years. Over time, the daily wear and tear of chewing food and attempting to provide jawbone and facial support can cause them to fit looser.
Gum Shrinkage – After prolonged tooth loss, the gums can start to shrink and change in shape.
Bone Resorption – Without stimulation from tooth roots, there can be bone resorption, which causes a decrease in jawbone density and mass, resulting in changes in the jaw structure.
The above scenarios can lead to dentures slipping or embarrassingly falling out. Many people experience painful mouth sores that result from the dentures rubbing against the soft tissue.
The Differences Implant-Retained Dentures Make
Dental implants are titanium posts that are surgically inserted into the jawbone. Over a series of months, they fuse with the existing bone to form a strong foundation. After the fusion and adequate healing, abutments are added that anchor a set of dentures in place.
They are fastened by a special bar or snaps that will leave you worry free of any sudden dislodging or gum irritating slips. Here are some of the other advantages of receiving implant-retained dentures:
You'll regain more chewing power.
You'll have a natural looking smile.
You can perform dental hygiene as you would with natural teeth.
You can avoid the premature wrinkling and sunken facial structure that are customary with traditional dentures.
Determining Your Eligibility
Because dental implantation is a multi-layered procedure, dentists carefully determine eligibility before moving forward with treatment. To get things rolling, you'll need to schedule a consultation to have your oral health and jawbone density assessed. Based on what the dentist discovers, a plan of action will be suggested. At this time, you can also get other key information, like the cost of treatment and a basic timeline for how the different phases will be executed.
The first step to receiving a fully functional set of teeth and achieving an awesome smile is to contact a local dentist to schedule a visit. Before you know it, you can be leading a richer and happier life!
About the Author
Dr. Louis Olberding is a graduate of the University of Nebraska Medical Center College of Dentistry. He has since gone on to provide two decades of compassionate and competent care. Along the way, Dr. Olberding has received advanced postgraduate training from the renowned Spear Education, and he is also a member of the Spear Visiting Faculty. He replaces missing teeth with implant-retained dentures at Olberding Dental, and he can be reached for more information or to schedule a visit through his website.