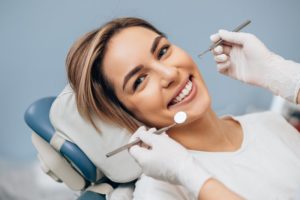 You've excitedly launched into a new year. Like most people, you're busy taking the necessary steps to kick-off the upcoming 12 months on a positive note. It's important to direct some of the positive energy toward your dental health, beginning with visiting a dentist in Lincoln for a checkup. Continue reading to discover 5 reasons why it's in your best interest to act now!
#1 – You Can Tackle Your Deductible
If you have dental insurance, you're responsible for paying a new deductible at the start of the year. While this usually isn't a phenomenal expense (around $50), it's much easier to take care of at a preventive care visit. That's because these appointments are typically 100% covered. Later on, if you're in need of restorative care that requires an out-of-pocket contribution, you won't have the additional fee of the deductible to contend with.
#2 – It's Easier to Dodge a Dental Emergency This Way
Up to 60% of dental emergencies are avoidable. Many people suffer unnecessarily because of negligence. Visiting a dentist early in the year is one way to combat this. If there are any problems that are developing, they can be spotted, and a treatment plan developed to restore your dental health to normal.
#3 – You'll be able to Save Money
Each year holds its own hidden expenses that will arise. The more you can save, the better off you'll be. An early year visit can indirectly help in this area. As previously mentioned, these appointments are typically fully covered by dental insurance. By taking advantage of the available preventive dentistry, you'll have a better chance of avoiding the more complex forms of care that require patient contributions of 30-50% of the total cost.
#4 – It Boosts Your Dental IQ
The more you're able to learn about the function of your mouth, teeth and gums, the better dental and overall health you can experience. When you talk to a dental hygienist and dentist, you can rest assured that you're getting reliable information from trusted sources. By implementing what you learn, you can see immediate and long-term improvements.
#5 – It's a Great Ice Breaker
For many people, dental appointments can be a little unnerving. Visiting for a dental checkup and cleaning provides a way to get acquainted with the dentist, staff and office environment. You should feel comfortable about the practice you work with, so this is an excellent way to build rapport.
Now that you have the information you need, the only thing left to do is to take action. By being proactive and scheduling a dental visit, you'll be able to get your year started in a healthy and productive manner!
About the Author
Dr. Louis Olberding earned his dental degree from the University of Nebraska Medical Center College of Dentistry. To ensure that he can provide the utmost in care, he takes several hours of continuing education annually. Dr. Olberding places an emphasis on preventive care as a means of avoiding mishaps and preserving dental health. He treats patients at Olberding Dental, and he can be reached for more information or to schedule a visit through his website.