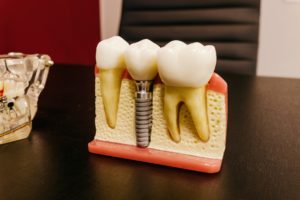 If you've lost a tooth or two, you're not alone. 120 million Americans are missing at least one tooth. Although there are many replacement options, over 500,000 people are choosing dental implants each year. They are the only prosthetic to replicate the entire tooth from the root up, but what if you're missing several teeth? Don't worry, each tooth is not treated individually. Instead, you might be a candidate for an implant-supported bridge or denture. Your dentist will perform a thorough consultation to determine how many dental implants in Lincoln will be required to rebuild your smile.
Single Tooth Replacement
A single tooth can be replaced using only 1 dental implant. A titanium post is surgically placed into the jawbone to replicate a missing tooth. After your jawbone has healed, an abutment is placed on the post to connect your custom-made restoration. The crown is designed to match the exact color, size, and shape of your natural teeth to blend in with your smile, so no one will know it isn't real.
Consecutive Tooth Replacement
Two or more consecutive missing teeth can be treated with an implant-supported bridge. Traditionally, a dental crown is bonded over the adjacent teeth to hold the bridge in place. Although this method is effective, it will require you to permanently alter healthy teeth. As an alternative, 1-2 dental implants can anchor your bridge to your jawbone. It won't rely on your other teeth for support while also preserving your jaw's density to prevent additional tooth loss. With over a 95% success rate, you'll never need to worry about having your dental implants replaced with the right aftercare, like maintaining your oral hygiene.
Multiple Tooth Replacement
If you have suffered significant tooth loss, but you still have a few healthy teeth remaining, a partial denture can fill the spaces, but there is another option. Depending on which teeth you're missing, your dentist can use a combination of single-unit implants and implant-supported bridges.
Full Tooth Replacement
A full denture is often used to treat an entire arch of missing teeth, which is held to your gum tissue using suction or an adhesive. Several advancements over the years have improved their fit and function however, they will always have their limitations. Instead, 4 to 6 dental implants can anchor your denture to your jawbone. You'll never need to worry about any slipping or irritation again. In fact, you can regain as much as 70% of your natural biting force to enjoy many of your favorite foods again.
Complete Your Smile Today
Your dentist can help you invest in a prosthetic that's proven to last for decades. Find out if dental implants are right for you today.
About Dr. Louis Olberding
Dr. Olberding earned his dental degree at the University of Nebraska Medical Center College of Dentistry. He has undergone extensive training to provide higher-level services, like dental implants. If you're ready to replace your missing teeth, contact our office today to schedule your consultation for dental implants.