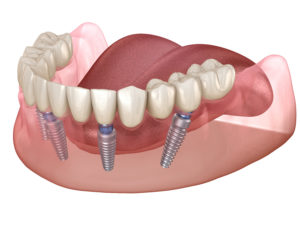 Dental implants in Lincoln have become increasingly popular over the past several decades as a tooth replacement solution. However, not every person with missing teeth is a good candidate for this type of restorative treatment. For example, individuals who wear dentures may not have a strong enough jawbone to support conventional dental implants. Thankfully, modern procedures like All-on-4 can often provide an alternative route to an implant-supported smile. Want to know more? Keep reading to learn about the 5 factors that can indicate whether All-on-4 implants are right for you.
Factors to Consider for All-on-4 Implants
For people missing most or all of their teeth, there are many variables to consider when choosing how to restore their smile, such as:
Jawbone Strength
Many people who lose most or all of their teeth start out by wearing traditional dentures before considering other options. However, even with dentures, the jawbone can slowly deteriorate without stimulation from tooth roots. A weak jawbone often cannot support many single-tooth dental implants. Fortunately, All-on-4 utilizes just 4 to 6 implants that are strategically placed in the thickest area of the jawbone to support an entire arch of artificial teeth.
Quick Results
All-on-4 implants are often a great choice for individuals looking for a quick way to restore their smile. In most cases, an experienced dentist can install the implants and attach a temporary denture in just a single day! While you will have to return a few days later to receive a permanent prosthetic, the All-on-4 procedure still delivers lightning-fast results compared to regular implants.
Easy Maintenance
For people who like to keep things simple, including their oral hygiene routine, All-on-4 implants are a great choice. Traditional dentures must be taken out regularly to clean and soak in a special solution. However, men and women with All-on-4 implants can keep their replacement teeth in great shape with normal brushing twice a day.
Affordability
Do you like to save time and money? Compared to conventional implant treatment, All-on-4 requires fewer implants and fewer appointments with a dentist. This helps make All-on-4 implants an incredibly economical choice to replace missing teeth.
Long-Term Solution
Finally, All-on-4 implants may be right for individuals seeking a long-term solution for their missing teeth. Traditional bridges and dentures must be replaced every 7 to 15 years. In contrast, with proper care, dental implants can last for several decades – perhaps even the rest of your life!
Am I a Good Candidate?
If you are missing most or all of your teeth and are searching for a reliable way to restore your smile, All-on-4 implants may be the right choice for you. Good candidates for this type of implant treatment typically:
Practice excellent oral hygiene at home
Do not frequently use tobacco
Do not have sufficient jawbone density to support regular dental implants
May currently wear dentures and want a more permanent solution
The best way to determine if you could benefit from All-on-4 implants is to schedule an initial consultation with your dentist in Lincoln. Don't wait to start your journey back to a complete, attractive smile!
About the Author
Dr. Louis Olberding has nearly 20 years of experience helping patients in Lincoln restore their smiles. An active member of the American Academy of Implant Dentistry, he offers a full range of restorative treatments at his private practice, including All-on-4 implants. To learn more about dental implants in Lincoln, visit the Olberding Dental website or call 402-488-2325.