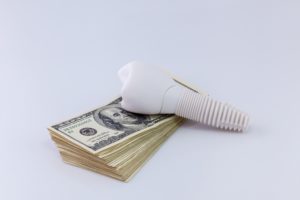 If you've lost a tooth or two over the years, you've probably heard about the benefits of dental implants in Lincoln. Although you'd like to enjoy them for yourself, you've also heard about their price tag. It's true you'll initially pay more for them than other treatments; however, they are the most cost-effective long-term. Not to mention, there are several solutions to keep their cost within your budget. Here are the top 3 reasons dental implants are worth their cost.
1. High Success Rate
Dental implants provide the most predictable and reliable results. In fact, they have over a 95% success rate. A dental implant can last for decades with the right aftercare to save money down the road. Traditional dental prosthetics need to be replaced every 5 to 10 years depending on the type; however, you'll never need to worry about paying for a replacement when choosing a dental implant.
You can help protect your investment by committing to your oral hygiene at home. Don't forget to visit your dentist at least twice a year for a cleaning and checkup. If you develop any concerning issues in between your routine visits, don't hesitate to contact your dentist, such as pain, swelling, or redness.
2. Reduces Oral Health Expenses
Every tooth is essential to your oral health. If you lose even one, your dental health is compromised. When a tooth is missing, you're not just missing the crown. You're also missing the root. As a result, your jawbone will slowly shrink because it isn't being stimulated by the root. Over time, your adjacent teeth won't have the support they need to stay in place. As they drift out of alignment, you have an increased risk of cavities, gum disease, and additional tooth loss.
A dental implant is the only treatment to replicate the entire structure of a tooth, including the root. A titanium post will stimulate your jaw to encourage new bone growth. You'll stop dental drift to prevent needing a costly treatment in the future.
3. Multiple Affordable Options
Every insurance policy differs, but most plans offer some coverage for dental implants. After reaching your deductible, you can use your benefits to help offset the expense of certain steps in your treatment, like the consultation, tooth extractions, or restorations. Your policy will lower the amount you need to pay out-of-pocket to keep your new smile affordable. Many dental offices also accept various payment methods to help you find the perfect option to fit your budget.
Invest in a Complete Smile
If you're ready to invest in a permanent tooth replacement treatment, you might be a candidate for dental implants. Your dentist will help you complete your smile without breaking the bank.
About Dr. Louis Olberding
Dr. Olberding earned his dental degree at the University of Nebraska Medical Center College of Dentistry. He is a lifelong student, completing extensive training in many specialties, like dental implants. He can replace your missing teeth using a personalized plan. Contact our office today to schedule your appointment.