Gum Contouring - Lincoln, NE
Reshaping Your Gums for Gorgeous Smiles
If you see too much or too little of your gums when you smile, you can give your teeth the beautiful frame they deserve with gum contouring in Lincoln, NE. It's a simple procedure that can completely transform a smile -- and it could be just the solution you've been hoping for.
Why Gum Contouring?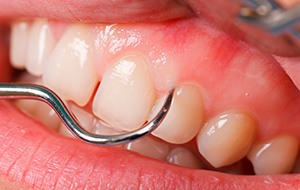 Uneven gums can be caused by a number of things, most commonly gum recession. Related to gum disease, aggressive tooth brushing, or simple genetics, recession occurs when the gum pulls away from the tooth. When recession occurs, teeth can appear too long.
Another common problem with gum shape is when there's too much of the gum tissue present – something we often call a "gummy" smile. If your gums cover too much of your teeth, they likely look too small. The good news is that the team at Olberding Dental can uncover your hidden teeth with a simple gum contouring procedure.
How Laser Gum Contouring Works?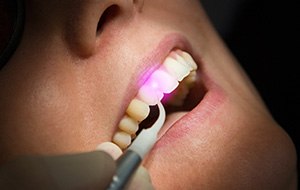 With gum contouring, your cosmetic dentist mixes artistry and skill to give your gums a more pleasing shape. Using lasers and the absolute latest in technology, Dr. Olberding can contour your gums with absolutely no scalpels, sutures, or stitches. That means no bleeding and far less pain for you. Plus, the procedure is completed far faster than what was once possible with traditional gum surgery.
The procedure for laser contouring works like this:
You'll thoroughly discuss your smile goals with Dr. Olberding, carefully communicating what your aim is for gum contouring. Dr. Olberding will take this information and put together your unique treatment plan.
To begin the procedure, we'll administer a local anesthetic to ensure you feel no pain at the treatment site. We also have sedation options available for patients dealing with dental anxiety.
Dr. Olberding uses the laser to cut away or reshape gum tissue to be more aesthetically pleasing.
Once the contouring procedure is complete, you'll just have a short recovery period before you're enjoying the full benefits of your new, beautiful smile! Any discomfort following your procedure can be managed with an over-the-counter pain medication. Make sure you consume soft foods for the first few days after surgery and remember to be gentle while you thoroughly brush and floss your teeth.
Benefits of Laser Gum Contouring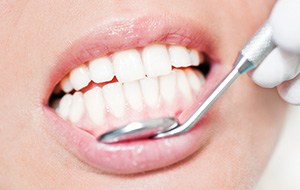 When you complete your gum contouring at Olberding Dental, you'll receive all the benefits our state-of-the-art dental office offers. Some of the advantages of laser gum contouring include:
No sutures or stitches
Far less bleeding and pain
A faster treatment process and shorter recovery time overall
Get Started with Your Visit Today
If you're interested in the cosmetic benefits of gum contouring surgery, please don't wait to get in touch with Olberding Dental! We'd love to help you achieve your best-looking smile. Call us to get started today!