Bone Grafting - Lincoln, NE
Creating the Foundation Your Dental Implants Need
Dental implant tooth replacement is likely the most popular option, as it replaces an entire tooth from the roots up. That means patients' prosthetic teeth are not attached to surrounding teeth or reliant on dental adhesives or suction for attachment. It also means that replaced teeth look and feel more like regular teeth. Unfortunately, many patients who could benefit from dental implants don't have adequate bone structure to support them. That's why Olberding Dental offers bone grafting in Lincoln, NE and sinus augmentation procedures, allowing more patients than ever to receive revitalizing dental implant tooth replacement.
Why Patients Need Bone Grafts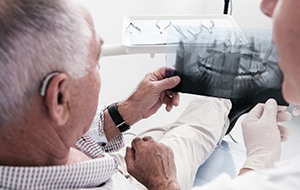 One of the most detrimental side effects of tooth loss is also one of the most difficult to prevent: lost bone density. The human body has countless energy and nutrient-saving mechanisms, and one of these is bone resorption. When bones are not used regularly, the lack of stimulus causes the body to begin rerouting nutrients typically utilized in retaining bone structure to other parts of the body. Following tooth loss, the jawbone does not receive stimulation leading to bone resorption.
Traditional tooth replacement options like crown and bridge and removable full and partial dentures do not prevent bone resorption, as the root of the tooth is not replaced. Dental implants replace the entire tooth from the roots up, preventing bone resorption. However, for patients who have waited to receive implants, the lost bone density may prevent them from receiving an implant-retained dental prosthetic successfully. Bone grafting allows patients with diminished bone density after tooth loss to receive dental implant tooth replacement.
Sinus Lift

The hollow area above the upper jaw is known as the maxillary sinus. A sinus lift procedure is the most common type of bone graft, and it requires attaching bone to the upper jaw, filling in part of the sinus.
Ridge Expansion

Bone tissue deteriorates first in width and then in height. Ridge expansion restores the lost width by inserting bone graft material into a ridge cut into the top of the jaw.
Distraction Osteogenesis

This procedure is the opposite of ridge expansion, and it is used to increase the height of bone. Metal posts are placed inside the bone and gradually shifted further apart, allowing new bone to grow in. Distraction refers to the process of slowly separating the bone, and osteogenesis is the growth of new bone.
Nerve Repositioning

The inferior alveolar nerve is encased in the lower jaw and gives sensation to the mouth and chin. This nerve often needs to be redirected after significant bone density loss. The good news is that dental implants can then be placed in the hole vacated by the nerve. This surgery can cause nerve damage and is typically recommended as a last resort.
Find Out More
If you're interested in finding out whether you're a good candidate for bone grafting, dental implants, or other reconstructive dentistry services, contact Olberding Dental. Our Lincoln dentist and team rebuild smiles every day, and we would love to help you get the fully functional teeth you deserve.